All wrapped up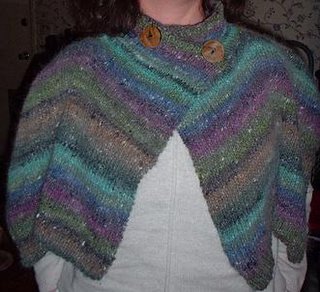 I finished the Tzarina wrap, (
Wrap Style
by Pam Allen and Ann Budd) yesterday morning, including sewing on the buttons and giving it a good steaming. Lisa came over last night and picked it up.
I think I'm always a bit disappointed in how my finished objects look, at least until I've had some time to put some distance between them and me. Lisa had a shawl on last night that I had made a few years ago and I thought it looked fine. So, yes, I'm a bit unhappy with this project. I think maybe I need different buttons. These seem way too big to me now. But Lisa liked the wrap a lot. I do like the yarn and the colors. And it's soft enough given the angora that's in the blend. I'll see how I feel about it the next time I see it.
I've been a little slow at the shop. No one yesterday, which turned out to be a good thing. The shoplifter, or the person we think is a shoplifter, was back. I had to spend at least half an hour following her around and watching her every move. She tried to return three balls of yarn but she didn't have a receipt so I wouldn't let her return them. She said she'd be back on Tuesday when Ann Mary is back from TNNA. (Note to self: call Ann Mary and warn her.)
Back to knitting. I've just started the second of a pair of Dulaan mittens. And I found a pair of socks that is almost ready to have the heel turned on the second sock. So I'll concentrate on those for the rest of the day.
I never did get the books and magazines organized but I did get them picked up and put on the bookshelves. I had to take a lot of yarn off the shelves to do it so now I have some new piles to deal with. But I did manage to empty one cube in my wall o' yarn. I sent the rest of the Kitchen Cotton away.
I found 30 skeins of Barufa Baby Alpaca that I'd forgotten about. I got it as payment for knitting a sweater for one of the yarn reps, probably ten years ago. There was also a bunch of stuff, a cotton blend, that I got when I first started knitting seriously, from Super Yarn Mart, a chain of yarn shops that used to be all over the place around here. They've been gone for ten years or more. So this is some pretty old stuff.