Share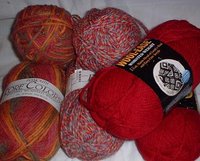 As much as I'd like to, there's just not enough time to knit everything I'd like to for the Dulaan Project. If you've seen the pictures on
Ryan's blog
you know how much the kids in Mongolia love receiving these warming gifts. I can't begin to knit everything I'd like to.
So I was really happy when one of my on-line friends offered to help. I'm sending these six skeins and will add more if I can find it in my stash. Well, I'll send more if she wants it. I'm trying to get as much gathered together as I can. Yarn that will be warm and easy to care for. If you're interested in doing some knitting for the Dulaan Project, let me know and I'll send it. I'll try to post pictures next week of what I've come up with.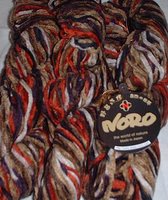 And speaking of sharing. One of our Thursday night knitters decided she needed to reduce her stash, again. That's always a fun time. This is some Noro Sumile. I'd never seen or heard of this particular yarn. It's a flat chenille made of cotton, silk and nylon. I have nine skeins of it. About a thousand yards all together. No ideas yet.
There's also eighteen skeins of Dale of Norway Heilo sitting in a bag in my living room. A marled yarn of brown and beige. No photo because I forgot to take one while I was doing the others. I'll have to see/play with it a bit to know what sort of pattern I'd like to use.
Oh! and Happy Birthday, Mozart!