Did you know?
You can still get Noro Kureyon at
Velona's
for $8.95US per skein. That's one to two dollars less than other stores in my area. So, depending on who you compare them to, I saved twenty or forty dollars today. And I already have the pattern in a book for something else so that's practically free. Now all I need is a little more time.
This may be the year of knitting Noro. I've started a wrap using Kochoran and I have a cardigan in Silk Garden that is ready to go. Now this sweater, for me, plus there'll no doubt be several multi-directional scarves along the way and some one skein hats. I want some of their new Silver Thaw but haven't found exactly what I want to do with it. And I'm going to wait to see if I can get it on sale somewhere.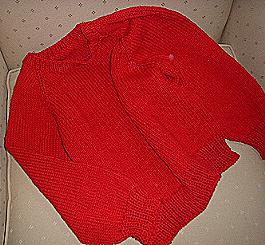 I finished the Dulaan red cotton sweater just a few minutes ago. I still need to wash it but the ends are all woven in. I only had about half of the yoke done when I put it away last year. So I guess it really only took about a week to actually knit. I'm so glad I'm done with it. I don't think I'll ever use Kitchen Cotton again. Gotta find someone who wants seven or eight balls of it. There's a pink dot on the photo that I think must be something on my camera lens. Another thing to add to my to do list.