Getting it right the first time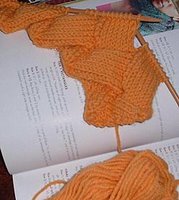 Not that there weren't mistakes. Most of them were caused by my not reading the pattern carefully enough and miscounting a couple of times.
I'm using the Lady Eleanor shawl from
Scarf Style
as my initial sampling of entrelac. So far I think I'm getting it. I looked at a couple of other entrelac pieces just to see how they're similar and different from this one. Certainly they're not all the same but there's a generic quality that's helpful.
I'm using some scrap Encore just to see all the steps. I can understand why a more "rustic" yarn might be appropriate for this shawl. It has a blurring quality that will help to minimize some of the irrgular stitches that happen when you have all that picking up and slipping and SSKing going on. I'm not sure if I'll proceed much farther with this but if I do I think I'll use some Noro Shinano that is somewhere in my stash. (There's that Noro thing again.) I imagine the gauge is going to be different but I think that won't matter so much.