More yarn and other stuff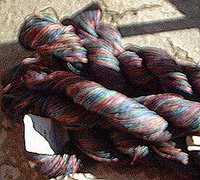 I had a gift certificate that was burning the proverbial hole in my proverbial pocket. I could have waited until Thursday when I would be in Monrovia anyway but I didn't want to wait that long. I'm glad I didn't. This Ironstone handpainted ribbon, Infinity, would probably have all been gone by then. They still had some of each of five colors but there wasn't much of some of them. Anyway I got this. Sorry about the photo. I even went outside to take the picture. Probably should have used the tripod. This is 100% cotton. The label says "Spun in England" whatever that means. I have 785 yards which I hope is enough for a top for Lisa.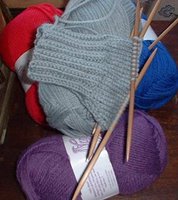 Here's the Brown Sheep Nature Spun I got yesterday at Velona's. I've started a pair of mittens that will go in my Dulaan box. I'm adapting a pattern kind of as I go. The original pattern called for working flat and sewing the side seam. I'd rather not do that. Not sure yet if I'm going to graft the end or turn it inside out and use a three needle bind off. I made some mittens last year for the project but I wasn't very happy with how they came out. I think these will be better.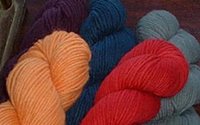 And also from Velona's. Five hanks of Classic Elite Waterspun. I think each one will be enough for a child's hat. I've never used or seen this yarn. But I have heard of it. It is very soft, 100% merino. Should be warm. It's probably also going to go to Mongolia.
Someone, I don't know who, must have made a contribution to Doctors Without Borders in my name. I got a form letter from them thanking me for my recent $35 contribution. I haven't sent anything to them since the beginning of last year. So I don't know who to thank. If you sent it I'd love to know. If you wish to remain anonymous, okay, but thanks anyway.