World famous secret project photo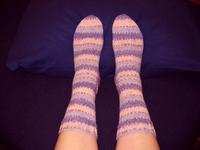 Remember how I said I would post a picture of Lisa's birthday socks if she sent me a picture? Well, she did, and here it is. I had to mess around with the color a bit to make them appear more like their real selves but I couldn't get it perfect. This is close though. I was pleased that the stripes came out as a good match even if there is a one row difference.
It's hard to imagine having a holiday weekend right now. The horror of the situation in New Orleans and Mississippi is too overwhelming to even think of celebrating. Find some place to donate, if you can, and continue to press for more effort from our government. Wringing hands and pointing fingers are not much help. Maybe later.