This week's projects, so far

I spent most of yesterday knitting the back of this turtleneck sweater. It's from the
Very Easy Very Vogue
hardcover book. I'm using a different yarn, Tahki's Valetta, so I had to rework the pattern for a different gauge and for a size that's not included in the pattern. Sweater Wizard is a lifesaver sometimes.
The yarn is discontinued now, I think. It's a braided ribbon and is very stretchy. I'm not sure how well this is actually going to work. May be too loose to be comfortable. But I've had the yarn for a couple of years, or more, so it's time to try it.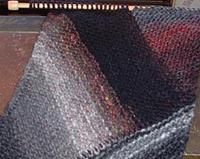 I've added another triangle to the multi-directional scarf I'm making for a friend's Christmas gift. One more skein to go and I'll be done.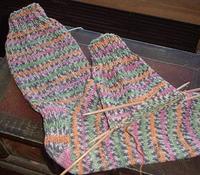 I've been using this sock as my at work knitting. The pair should be done by the end of the week.
I'm taking today off from knitting. I'm doing some fall housecleaning and then Lisa is coming over this evening so I need to get ready for that. I don't have much to do since she was supposed to come over last night but got tied up at her job and forgot, or she forgot that she was coming on Sunday and thought it was supposed to be on Monday. I'm also cooking today, which I almost never do anymore. Red beans and rice and a basic chicken soup, no noodles.