Assorted things
Today is
Bess
's birthday. Go say something nice and wish her a happy day. Thanks.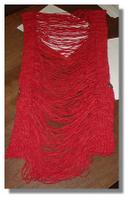 This is the red tabard that I finished on Saturday. A shop sample for Skein. I couldn't find anyone to model it so I had to lay it out on my work table. The yarn is Berroco's Suede. After you knit what is essentially a long scarf you let the center stitches ravel. To wear it you poke your head through the appoximate center of the swags and button the two sides. It's been getting nice comments although no one has decided to knit it. I suppose with the right outfit it would be a fun accessory but tricky to wear.
And this is the newest shop sample, a simple top knit with Trendsetter's Fatigues. I had to promise Ann Mary that I wouldn't show her face. I still have to write the pattern and figure the various sizes. The yarn was pretty easy to work with. A thin ribbon of what looks like felted wool with a line of machine stitches running down the middle. Knitted on size 10US needles it produces an irregular surface that feels thick and soft.
And finally. A reader left a comment about a knitting competition she's having. Knit a sweater for a featherless chicken. You can click
here
to get all the details. There you go, Carrie. Hope this helps.