The end of Marissa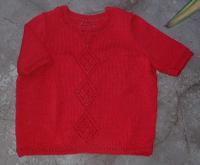 I know you've all been waiting for this day, the day that I post a picture of the finished Marissa. I tried to do this yesterday but by the time I finished the finishing it was too late to get a decent image. Today isn't much better but at least you can see the lace insert. The color is a little off, but it's red, not the billious orange I was getting in yesterday's attempts.
Overall I'm pleased, just tired of looking at it for now. Maybe when I see it on Lisa I'll be happier.
The pattern is from
Hot Knits
by Melissa Leapman. I used the yarn specified, Classic Elite's Provence, a hard-finished cotton yarn. Four hanks. This is my first experience with this yarn even though it's been around for years. I like working with cotton but I don't think I'll be hoarding this one. I prefer Tahki's Cotton Classic or Brown Sheep's Cotton Fleece. And I have lots of each of those in stash. And another four skeins of the Provence in red and eight hanks in a sorta magenta color.
I spent my Labor Day holiday doing the finishing. It was a quiet and fairly peaceful day, except for the dog barking next door and the kids crying downstairs. No one was working on the condo construction and there was very little traffic when I went out to have lunch at Amigos. But it's back to the knit mill today. I'll be walking as my car is having combustion problems again.