Start Ups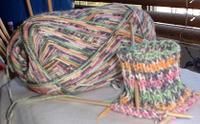 Because I finished those Happy Stripes socks, and because sock knitting is so addictive, I started a new pair. I'm not in love with this colorway. Too much jacquard and not enough wide color stripes. But I do like working with the Sockotta cotton/wool yarn. These will be just plain knitting. I do have several other sock projects going but they're more intricate and require some quiet time in order to count.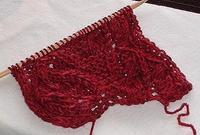 What do you suppose this is? It's my start up of Annie Modesitt's Backyard Leaves scarf from
Scarf Styles
. I've been wanting to knit this ever since the book came out but kept putting it off until I had some quiet time. One of my friends wants to knit this for her daughter so we're planning a little mini-knit-along. I've started with some Araucania worsted but I'm still thinking about that. The pattern calls for Karabella Aurora. Skein only has this yarn in navy blue which I don't think I want. And I don't seem to have anything in my stash that would be a good substitute. If I have time today I'm going to go see if Stitch in Time has anything.