The Kick Off
You might think that's a reference to yesterday's Super Bowl game. And it could have been except we didn't have a Super Bowl event at Skein. When I told Ann Mary that a couple of the other yarn shops in our area were having Super Bowl parties she said, "What's a Super Bowl Party?" After I explained she decided that would be too much trouble. And actually we didn't need it. From start to finish it was a wild and wooly day.
I wish I had a separate room for teaching though. It's really hard for students to concentrate when we're surrounded by shoppers and all the noise that goes with it. Many times I have to consciously block the background noise so I can teach. And teaching on a drop-in basis has its own risks. Sometimes the mix is so diverse that the switch from one level to another is a challenge requiring a deliberate shift on my part that can break my focus. And then I get overwhelmed by all the background stuff again. I don't like the feeling that there are odds and ends of questions that haven't been answered. But there's not much I can do about that right now.
I've been sort of in the dolbrums lately. Not really happy with what I'm working on. I do have a couple of finished things to show.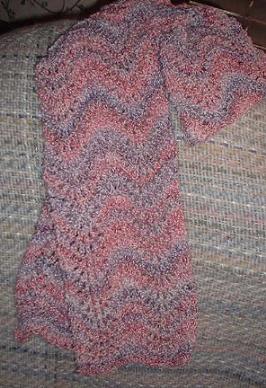 The Paris Rainbow scarf that I made for the cancer cure drive. I'll be taking this to Needle in a Haystack today. The photo makes the scarf look a lot softer than it is though. It's a textured cotton so it's heavy. I stopped short of my original intent because I thought the weight would cause too much stretch. I like the look but it was pretty mindless knitting.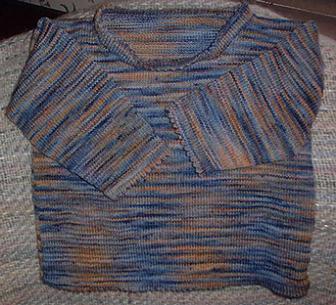 The long awaited shop sample done in Koigu. I can't explain why this took me so long to finish. I loved working with the Koigu and the pattern, as you can see, is pretty simple.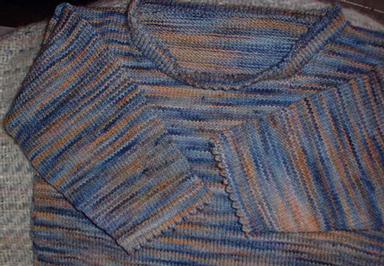 See the cute little picots. That's about the only thing that saves this sweater from absolute blah. The neck band refuses to behave though. I've redone it twice and it still wants to flop forward in front. I hope we get some more Koigu soon.
Now about The Kick Off. Lisa was here last night to start my birthday week long celebration. A bottle of champagne (Perrier-Jouet that I've had chilling for at least two years, maybe longer), a bottle of merlot (Deer Valley on sale at Ralph's) and then some house chianti (a half-carafe that we didn't finish) with a large The Works pizza at Avanti's (voted best goumet pizza for seven years running). I managed to stuff myself way beyond comfort level but I enjoyed every forbidden bite. And I have one piece left for lunch today. But I think I've had enough wine for a while. And I have four new sweat shirts (extra large if you must know) and nine new pairs of socks. I haven't decided what I'm going to get myself for my birthday. Other than a gym membership that is.