There's supposed to be a plumber here. It's not an emergency just some routine maintenance that I no longer feel agile enough to accomplish. I just don't contort all that well anymore and getting under a kitchen sink could prove to be my total undoing. Anyway, he hasn't called yet. But I firmly believe that he will show up some time today. Or maybe tomorrow.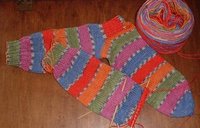 If he doesn't show I will still be able to work on these socks. You may recall seeing these socks before. When I was nearly finished the first time I realized that they were just going to be too big. So I ripped them and soaked and dried the yarn and am not almost to where I was before. I should finish today. I'm using a slightly different approach to knitting the heel flap and turning the heel. It's too subtle to see. I'm trying Charlene Schurch's way of doing it. You can find out all about it in her
Sensational Knitted Socks
.
I was invited to go knitting with friends last night. I decided to be a responsible adult and stay home with my cat. Patrick is easily frightened by loud, unexpected noises. There were a couple of times when I thought his eyes would actually fall out. I spent a lot of time talking to him and giving him soothing brushes. So we got through it. I missed going knitting though.