I finished the first sock of the Gull Wing socks. I'm using some more of the cotton yarn I got at Unwind a few months ago.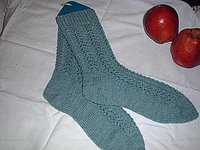 I forgot I had made these socks before. The pattern is in
Socks, Socks, Socks
from XRX. The stitch pattern is easy to memorize and to read, once you have it started. I've cast on for the second sock but put it aside so I could start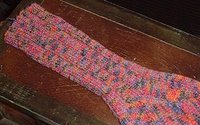 these. A simple 6 x 2 rib done in Plymouth's Sockotta. I got the yarn at Unraveled a couple of weeks ago, along with three other skeins in other color ways. I'm not as fond of Sockotta as I once was. I think I like Lana Grossa better. It's a bit softer and easier to knit.
Last Friday we (Mendy, Judy and I) went on a short yarn shop crawl. Our first stop was at
Handmade
. None of us has been there. It's a small shop but has some unusual items including brands you don't see everywhere. The owner, whose name I didn't get, is very enthusiastic about all things needlework. She's only been there for six months. I think we'll go back but will see if we can find an easier route than the one we got online.
And then we went to
Unwind
. The great wall of sock yarn was a bit of a disappointment. Maybe it was better when it was first put up. Not that I wasn't able to find something.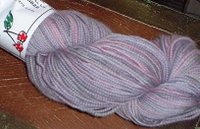 Yet another skein of Cherry Tree Hill sock yarn. I must have ten or twelve skeins in different colors and have yet to actually knit anything with it. Well, I have started a swatch. Someday. I also got three hanks of hemp. Just because I've never tried it.
We ended up at Sit'N Stitch in Toluca Lake, very near Unwind. There's more to the shop than first appears. It's in a converted medical office and when they moved in none of the partitions were taken out so you have lots of little rooms to explore. The hall way is too narrow for more than one person at a time to get through. You really have to spend some time looking because there's not much semblance of organization. There's also lots of needlepoint stuff if you like that sort of thing.
The one thing I noticed about all these shops is that they weren't busy. I guess it's a seasonal thing. Well, I hope so.