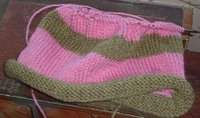 The start of a new year. Here's the first hat of the new Dulaan year. We're going to meet a little less frequently for a while and then resume our weekly sessions in October.
I've picked up most of the odds and ends of yarn that I bought this year and tried to consolidate everything in one box. I'm going to need a couple more. I did finish two more hats and some mittens that have been added to this year's shipment but I didn't get around to taking a picture.
I'm using some Cascade 220 for the new hat. I'll have lots left over so there'll probably be others in slightly different permutations.
Our group has decided to expand our knitting efforts. We're planning to make blankets or afghans. We're still talking about how we're going to organize everything but it looks like we'll be making squares and putting them together later. Will probably use Encore as the basic yarn and one of the sampler squares books as a guideline. I'm excited to be doing this. A couple of people that I work with are making these squares and I've wanted to make some too. Now I have a good excuse.