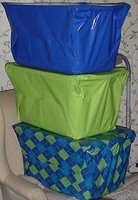 Guess what I got for Father's Day. And inside were several grey(my favorite color) t-shirts, and a belt that is going to be exchanged.
It was a great day. Dinner at Holly Street Bar and Grill. We hadn't been there for something like fifteen years. It was superb. It was the same and not the same at the same time.
And we had a good time just being together, dad and daughter, and the cat. of course.
I've been kind of out of it for a few days. Nothing much to write about. I finished the shrug for Skein on Saturday but I forgot to take my camera so it'll be a couple of days before I get a photo. I'm now making a glitzy garter stitch vest that will maybe help sell the yarn.
It's been a bit on the slow side at Skein but I hear it's that way everywhere. I had a much better week than I've had recently. More new knitters and some who are moving into more complex projects. That's encouraging. All of a sudden I'm getting people who want to make socks. That's great! I love making socks and turning people on to the process.
I finished the first sleeve of the green lace sweater that I wrote about last week. It's fine, except I made it too big. Somewhere along the way I switched sizes so I have about 36 rows to rip and redo. But the second sleeve is moving along.