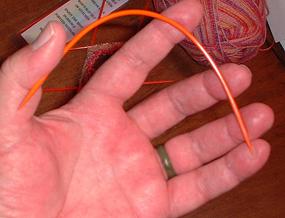 Can you do this with your double point needles? These are Comfort Zone DPNS that were sent to me by a dear friend. I'm finally getting around to trying them out. First of all, they're very sharp. Be careful. They're made of an unbreakable polymer. They do hold on to the stitches very well and they're lightweight.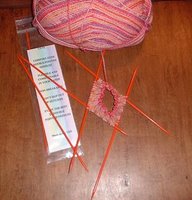 Knitting with them is weird. They're so flexible! Not exactly like knitting with rubber bands. I haven't used them enough to tell if I'll get comfortable with the sensation. I miss the solidity of regular dpns when I try to pull stitches through. And it looks like my knitting will have a different appearance. Not sure about that yet.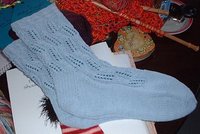 I finished the Tipsy Knitter socks last night. I enjoyed knitting them and I think they look great. Not so sure how they'll fit. The gauge is correct, etc., but they just look big to me. Maybe that's because I don't often use a solid color sock yarn.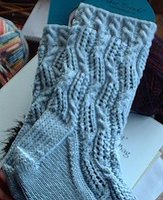 The yarn is 75% cotton and 25% nylon Fortissima Cotton from Schoeller-Stahl. First time I've used it. I have some pink and some navy blue that I'm planning to use for lace patterned socks. I have some other socks to finish first so I'll have time to find out if the cotton holds its shape after it's washed.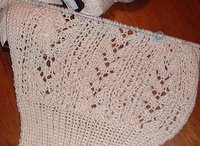 Today's knitting will include this Bamboo Shrug. The pattern is in the current Knit'n Style, not a publication I usually consider. But Ann Mary wanted me to make something using Plymouth Royal Bamboo. The yarn is very shiny and not difficult to use. There's a tendency to split if you're not careful. I'm using some Inox needles as they have smoother points than bamboo so I'm not as likely to snag the yarn but they're irritatingly heavy.