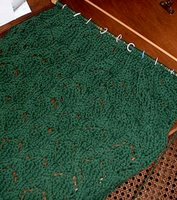 Remember this? It's the project that I was going to use for the Knitting Olympics. But I had a problem with the pattern. So I put is aside in favor of knitting for Dulaan.
Well, Dulaan is done, for now, so I pulled this out last night. Haven't looked at it since February. Just as I figured out where I was, the phone rang. A friend of mine who can go on for an hour at a time about stuff that I don't really need to know about. Fortunately her grandson wanted to use her phone so I only had to spend about half an hour. So I went back and refigured where I was. I managed about 16 rows before I ran out of steam, and yarn. I have to add a new skein. Is it too soon to start worrying if I'll have enough yarn?
This is still the first sleeve. I started with a sleeve to use as my gauge swatch. I had some problems with the pattern chart because I was trying to make it read the way I wanted it to instead of how it actually works. Once I got over that I had a pretty easy time. There's a 10 stitch, 24 row pattern repeat so, even though I've done a lot, I still haven't memorized the pattern. And probably won't.
It's really difficult for me to finish something as time consuming as a sweater. I used to finish a project before I started a new one. Not anymore. Coming back to this project after so many months allows me to feel some enthusiasm for it. I'll have to see how long that lasts. Maybe the other sleeve. Or the back.