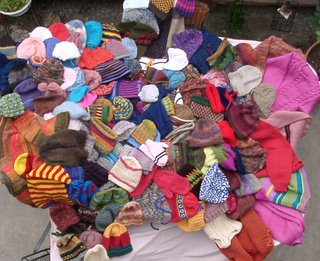 A birdseye view of the Dulann knitting. I guess this will be the end of the Dulaan photos. Seems like we're only allowed one picture a day on Blogger. I'm not sure that's correct but it seems to be the way it is on any of the blogs I read that are "powered by Blogger". I have some tentative numbers but I think I'll wait until next week to post them, after everything is boxed and ready to ship.
I'm going to the "fishbowl" sales at
Unraveled
today. What's a fishbowl sale? Well, when you get to the register with all your goodies you draw a number from the fishbowl and that will tell you how much discount you get. In this case, from 20% to 75%. When I went to Stitch in Time's sale on Tuesday I was looking for sock yarn but there wasn't anything that I didn't already have. I got a few hanks of Cascade to replenish my Dulaan hat knitting supply. I'll see what Unraveled has. I can usually get some handpaintrd sock yarn, Shaeffer's Ann, Mountain Colors Bearfoot etc., and I'll see if there's any new Plymouth Sockatta.
Now I'm just waiting to hear from a couple of people who said they might like to go. Once I know that I'll know if we're going to The Peach for lunch.