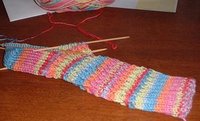 Another sock. This one is from
Sensational Knitted Socks
by Charlene Schurch. I just wanted to try her heel method to see if it's any better looking than the standard heel flap that I usually use. Actually, I don't much care for the garter stitch edge on the heel. I think the stitches stretch too much. But I do think that starting the flap on the wrong side and doing the heel turn the way she suggests makes a tidier corner. I'm not sure yet if I like her method of picking up two stitches at the top of the gusset. I'm not far enough along to tell if that will really solve the big hole problem.
I spent part of yesterday afternoon at
Unraveled
knitting with a friend. We've beem trying to do this for months. Yesterday all the stars and planets aligned so we were able to spend a couple of hours together.
While I was there I knit a swatch from the Yarn Tasting basket. You knit a swatch and give it back to them. You get to keep the balance of the skein as well as get a 10% discount on your purchase. I think that's anytime up to three months. It just so happened that I was going to buy a skein of Classic Elite Four Seasons and that was one of the yarns in the basket. I liked the way it worked up so I got eight skeins in orange plus one in black, the one I was going to buy anyway.
I think the objective of all this swatching is to have a sample of every yarn in the shop. When they're all done they'll be put on display but I'm not sure if they'll be with the yarn or just on a board somewhere. Either way it'll be a great help.