Muggy
I could be in NYC. That's how muggy it is here today. Everything sticks to everything. I have nothing planned except knitting on my still incomplete scarves for my pattern page. I think it's going to be a bit irritating.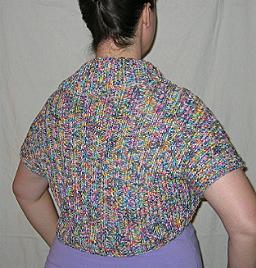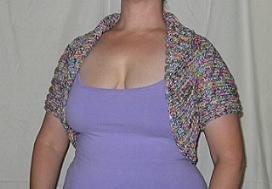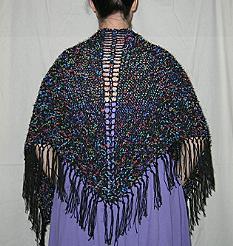 alt="" />
Here are the photos of the shrug I finished a week or so ago plus one of the funky black shawl from even longer ago. The 2x2 rib doesn't show up all that well, mostly because of the busy-ness of the ribbon yarn. I really like the pattern though. Ann Mary wants me to make one for the shop, probably using Berroco's Zen. I think I'll finish some other things first though. (I have no idea why that link looking thingie is showing up, and I can't figure out how to get rid of it. I've already wasted fifteen minutes trying to get it to disappear.)
The shawl is knit from the top down in garter stitch with yarn over increases in the middle and at each end on the right side rows. I retied the fringe to give it a little more body.
I tried to go to the new yarn shop yesterday but I couldn't find it. I forgot to take the exact address with me. I know I was in the approximate area though and that area doesn't bode well for a yarn shop. I'll try again just to satisfy my curiosity. I did hear though that it's disappointing.
Well, I guess I'll go stick to my knitting.