In a handbasket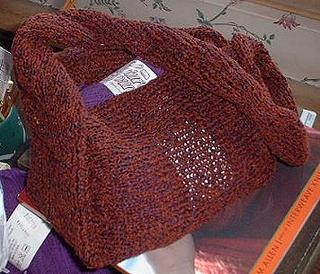 I finally, after what seems like months and months, got the Habu handbag finished. Well, at least I'm done with it. I never did get the handle to retain the twist that the pattern called for. I tried to kitchener stitch the handle join first. That didn't look so great so I used a three needle bind off. Tried that at least three times. That made the join too stiff and I still didn't have any twists in the handle.
After I got home last night I ripped the handle again and rejoined it with kitchener stitch after all. And I got it right this time. I even had the twist I wanted, or so I thought. But it untwisted. I've just faked it for the photo.
The bag is floppy. I guess it's supposed to be that way. Right now I have a couple of skeins of Brown Sheep Nature Spun stuck in it so you can see a little of the detail. The actual knitting wasn't difficult but the linen paper yarn is stiff and it's not easy to get up much speed. It took me two weeks to get around to sewing the whole thing together. And that took most of a day. Well, there were a few students interrupting my progress but that kept me sane.