Umm! Vacation!
It's day one of my vacation. Here are a couple of things that I hope are only the beginning of a goodly number of finished projects that will happen over the next week or so.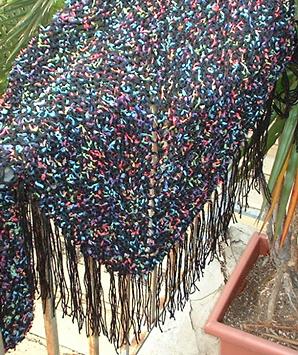 I never did get a satisfactory picture of this funky black shawl. But it's done. I used some really old stash. Katia Flash and Lana Borgosesia Flower. Lisa tells me she has a sweater somewhere that used the Flower, the multi-color yarn. I don't remember it. Anyway. This is just a simple garter stitch pattern worked from the top edge on size 13US needles. There are four yarn over increases on each right side row. If you lookly closely you will be able to see the central line of increases. The finished piece is a little on the small side but will be okay for a summer evening wrap.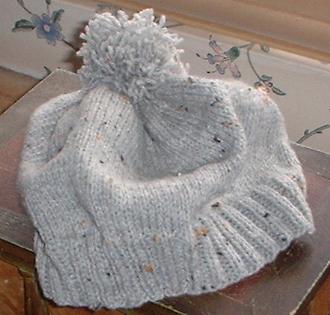 And here's the final item for this shipment, the Dulaan hat with pompom. I know the pompom looks like earthworms in a rugby match but I don't have a pompom maker so I improvised. I don't usually put pompoms on hats but this one was a little too lacy around the top so I needed to hide that. (I don't think I'll use the Ann Budd pattern for hats again. Too ruffly as well as lacy.)
I've printed out the inventory form for the stuff I'm sending to the Dulaan project. Now I have to make myself fill it out and get the items boxed and go to the post office. I'm such a procrastinator!