Soporific
Having trouble getting to sleep? Need something to relax? Try sock knitting. The best way I know to calm down and doze off.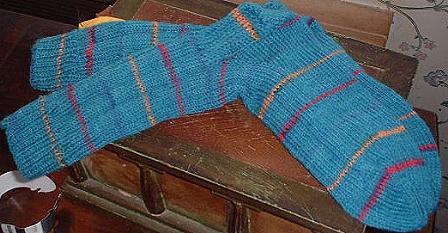 I've been working on these socks intermittently for a couple of months. Yesterday I decided it was totally time to finish them. The pattern is pretty simple, just K6, P2. I carried the ribbing down the instep. Not much there to stimulate me. So several nods-off later I was done. I also started another pair right after that. Just so I could see how the yarn would repeat. Maybe tomorrow I'll have another pair.
While I was looking for some more size 2US dpns I came across this.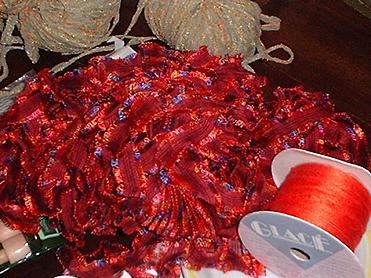 The two skeins of greenish/gold stuff was a gift from one of my students. It's Gedifra Poesie. Enough for a short scarf. But I might find something to put with it to make a longer one.
That orange pile in the front is Gedifra Cascade that I got at Velona's Needlecraft last summer. Only two skeins because it was expensive. The spool of Berocco Glace, of which I have another, I got at Temple City Knit Shop last summer during their going out of business sale. I think this will be one of the scarves from the first Little Box of Scarves.
Speaking of Temple City Knit Shop, it's been reopened under new ownership. Actually it's been open for a while but I hadn't been yet. So yesterday I drove over. I wish them well but it's going to take a while. Minimal stock, poor lighting and odd decor. They do have a nice new parking lot in back, although I wish they hadn't taken out the trees.
I like to always get something whenever I go to a new shop. I needed some more size 2 dpns. The saleslady didn't even know what I was talking about. "What kind of knitting is that?" she asked. "You know, socks."
"We've been learning to knit socks." Putting two and two together doesn't seem to be one of her strong points. Maybe that's why they use a large key calculator. No fancy automated check out system for them. Just a quaint handwritten receipt.
So I got my needles. They only had them in a seven inch length and a couple of skeins of sock yarn.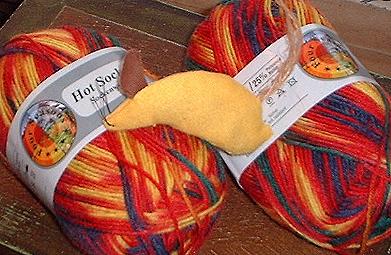 This is from a company named Four Seasons and is their Print No. 216. The other choices were not quite so lively. If I'm going to knit socks I need something to keep me awake.