Final day
Just one more day of vacation. It's going to be a lazy one. I will do a few chores but mostly will just putter with some knitting and napping. I'm pretty sure the luncheon date has been cancelled or postponed again. Sometimes life just gets in the way of things.
I have had a great vacation though. I got to spend hours and hours listening to the local classical music station and just knitting. I didn't make my goal of visiting a different yarn shop every day. I did enough damage in the first four days that I decided I really didn't need to go get more yarn.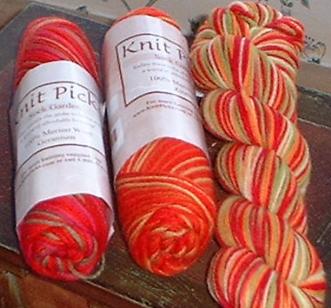 My first order from Knit Picks arrived on Saturday. Only a week. They had said it would take two weeks so that was a nice surprise. I got four skeins each of these socks yarns. I'm not making socks. I think these will become zigzag scarves. At least that's the plan for now. These particular yarns require handwashing. I'm not going to make anyone socks that can't be put in the washer, at least not intentionally. Oh, the yarn seems pretty nice. I'll let you know about the knitting once I've tried it.
I'm kind of in a sock knitting frenzy right now. Nothing fancy, just enjoying the color play. I got the yarn for these last weekend.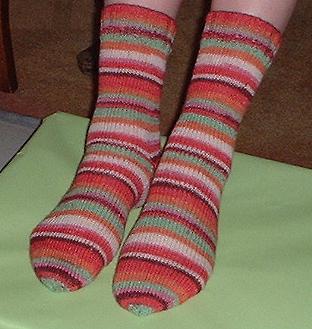 Lisa took them home with her last night, along with the Swizzle socks and the little blue lace shawl. I have started two more pairs. And I'm almost done with the back of the Marissa top that I started last week.