Gloom
If you live in Southern California you already know what I'm talking about. For weeks and weeks we have this dark gloom that opens every day. Today is no exception. There have been one or two days in the last month when the sun was out early. Usually though it's midday or even late afternoon before there is any bright light. That's why I almost always have to use a flash to even get a photo.
Yesterday was better than usual so I went out on the balcony to take this photo.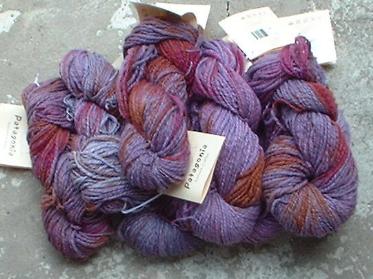 I also figured out that I have a zoom feature on my digital camera. I like it. And this is a pretty fair representation of what this yarn looks like.
The yarn is Patagonia from Araucania. I got it at Needle in a Haystack. There were nine skeins but I left one behind. It was too far outside the colorway. It's the same cotton as their regular Nature Cotton, just hand dyed in multi-color. It's about $3US more than the regular stuff. I'm thinking vest, knit sideways.
I did finish one of the socks and cast on for the second. No picture yet though, because of the gloom.