Is it Monday?
Day five of my vacation and I'm losing track. I had to check with my computer to be sure what day it is. Really! But I would have known once I started reading the blogs. Lots of people don't post on the weekend. So it's kinda like going to work on a Monday to find out what everyone did with their two days off.
So, here's part of what I did:
The beginning of Marissa from Melissa Leapman's
Hot Knits
. I've been meaning to make this since I got the book last summer. I even have the exact yarn in stash, except the color is slightly different. I tried a gauge a few weeks ago and was way off. Tried again Saturday and was okay. I've made one sleeve already. I think it might be a little tight so I'll have Lisa try it on before it's too late.
Had a slight work injury yesterday. Bamboo needles will apparently begin to deteriorate after a few years. I got a tiny sliver from the tip of one of my Clovers. I'm not sure if I got it out. I can feel a tiny twinge every once in a while. Anyway I checked the tips of my needles and sure enough they're beginning to fall apart. I think I have some more size 5US bamboos but I've switched to some Inox Express circulars now.
I've never been crazy about circular needles and only use them when I have to. I was surprised to discover how much more comfortable they are. There's a lot of weight on the straight needles since I'm using a cotton yarn. With the circulars the weight is all in the center. And I spend a lot less time moving the stitches up. And I really like the Inox Express. More than my Addis. They're smooth and have a little sharper point than the Addis. Anyway, I like 'em. Now you know.
Since this is Monday I'll be able to hit a couple of yarn shops that are closed on Sunday. I may not get to a yarn shop every day of my vacation but I'm going to try. I walked over to Michael's on Sunday. Not exactly a yarn shop but it was the best I could do locally. I think I'll go to Needle in a Haystack and Stitch in Time today.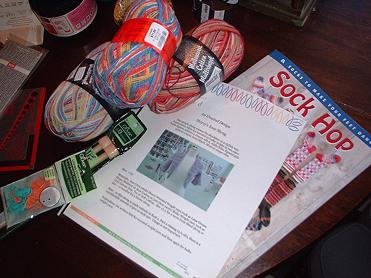 Here's some of the new sock yarn and a couple of patterns that I've already acquired. Got the pattern for the shrug at Unwind and the Sock Hop book at Michael's.
I'm not planning to buy a lot though. I do have a coupon for 20% off at Needle in a Haystack. My reward for participating in their Knit for the Cure event. And Stitch in Time is having a 25% off sales on all knitting yarn.