Chicken feet and more
Had dim sum on Sunday with three of my Chinese friends. It was amazing. The leftovers alone were enough for two very generous meals. Sadly though, there were no chicken feet left over.
I had never had chicken feet before, and probably won't ever again, so it was, ummm...interesting. Actually they taste like chicken. Surprise, surprise. I don't think it would be so bad if they didn't look so much like chicken feet. And there's even a protocol for eating them. Bite of a section, get as much meat off the bone as you can, spit the knuckles and bones back on your plate. Not your usual western style.
We had lots of different rolls, including some I've never heard of. And steamed buns of several kinds. One had a whole egg yolk inside that gushed out all over you if you didn't know what to expect.
Dim sum on a Sunday takes a long time. It's expected that you'll spend a couple of hours just nibbling and chatting while long lines wait outside the door. But it was fun to catch up with friends I hadn't seen since before last Thanksgiving.
Yesterday was home owners' association stuff. All day. On the phone, leaving messages, waiting for someone to call me back. Spending money to get things done. But it did leave some time for knitting.
I wasn't going to start anything new. But I did. I'm making a shrug. I got the pattern at Unwind a couple of weeks ago. The photo on the pattern is wrong. It's similar to the one I'm making but not the same. I wonder if they know that.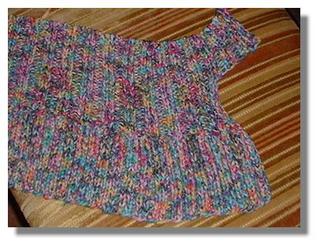 You can't tell much about it yet, and it's not so dreary as it looks in this photo. We're having a little hold-over June gloom today. I'm using some Tahki Chat that I've had in stash for a couple of years. Didn't know what I was going to do with it when I bought it. It's perfect for this shrug, and I think I have more than enough. The whole piece is K2, P2 ribbing which gets old pretty fast but on 10.5US needles it's moving along. I hope to be done before the weekend.
And I finished assembling the storage cubes that I got for Father's Day. I'm still trying to decide how to rearrange the furniture. And the cubes too. If I plan it right I'll be able to add two or three extra spaces. Patrick doesn't know what to make of it all. He's mostly frightened of the noise I make while putting them together. He's the original scardy cat.