New destashing project
That's what I'm telling myself. This is not just another start on a project that will end up in the ever increasing stack of things that are somewhere between cast on and just needs the ends woven in.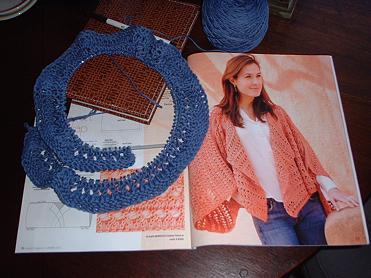 When I showed this pattern to Lisa she got very excited. I knew it was the kind of thing she likes to wear. And then I showed her the yarn I was planning to use. She got very excited about that too. The pattern is from the current "Knitter's" and is designed by Denise Powell. I'm not a big fan of "Knitter's" but there are a few things in this issue that I'd like to make before the summer is over.
I have some Cascade Sierra in stash that is right in all respects, except one. The pattern calls for 1320 yards. I have 1337 yards. That should be enough but I'm more than a little apprehensive. Anyone have an extra skein of Sierra #22, lot #2898? I've had this yarn for maybe three years. All this time I've thought I had eight skeins. I only have seven.
Anyway, it's an easy pattern and so far it's fun to work.