Mini-ysh
I just got back from a mini-yarn shop hop. Went to lunch with Mendy at The Peach Company, a new sandwich/pastry deli in Monrovia. Very good, by the way, if you're in the neighborhood. After lunch we walked next door to Unraveled. (Sorry. They don't have a website yet.) There were at least three other people there that I know from Skein or La Knitterie Parisienne or Mariposa, all yarn shops where I've worked. And one lady, while we were having lunch, came over to ask if I would be teaching at Unraveled. No, I won't.
I always try to buy something when I go to a yarn shop, even if it's only needles. I found a skein of Sockotta that I don't think I already have. Then I found some Kureyon in the same color way that I used for a multi-directional scarf last year for me.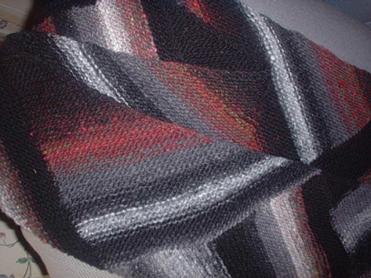 I have had a request for the same scarf for a Christmas gift this year. I wasn't able to find the same colorway so I used a similar colorway. I just finished it last night, actually. Anyway. I'll make another one using the yarn I got today. So I'll be ahead one scarf when Christmas comes around again.