Not my kind of thing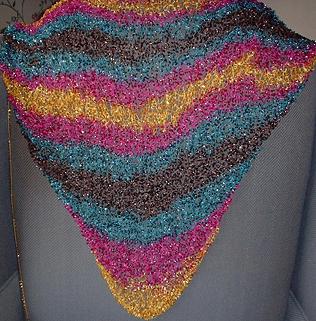 This is the current shop sample project. I'm using Karabella New Magic. It's a kind of half rail yarn with some gold metallic thrown in for good measure. Garter stitch with M1 increases at the beginning and end of every row. As Ann Mary pointed out, it's not my kind of thing. It's definitely flashy and gets lots of attention though. It looks more like a multi-flavored popsicle than anything else I can think of.
Actually that's all that's new around here. There was a power outage of some kind today. I wouldn't have even noticed except my answering machine was flashing in an odd sort of way. After I finally found the manual and the list of things that might be wrong I concluded that a power outage was the most likely thing. Sure enough, once I started looking, everything that could flash was. So, since I was already dealing with things electronic, I changed the batteries which have been low for a long time. I hate having to learn new things like this. But I managed and now I know how really simple it is. Even re-recording my message was easy, once I read the instructions a second time and saw what I was doing wrong. Now I just have to wait for someone to call so I'll know if it's really working.