Long day
Even though I've been doing it for a while I'm still not used to working a nine hour day on Wednesday and getting home close to 8:30 in the evening. By the time I get organized, have dinner and check email it's an hour later. And I still have to play with the cat.
Yesterday I was very busy at Skein but today there were only a couple of students. A friend came in to knit for a while and she brought me some home made pickled jalapeños. I can tell you this much. I won't need any decongestant for a while. And Ann Mary sent me home with a couple of apricot rugulas. Fresh and delicious!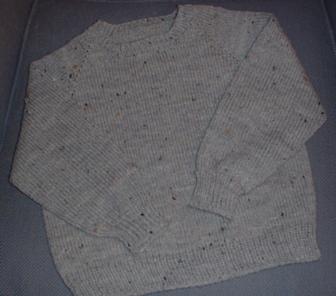 In a total non sequitur, here's the Dulaan child's sweater I've been working on. Unblocked and underexposed. I used some Sirdar Country Style Tweed that I've had in stash for ten or so years. The pattern is from Ann Norling and is a basic top down raglan. Worked on a size 6US in the round.
I have three skeins of this yarn left over so I think I'll try some simple mittens and maybe a hot or two. I'm still working a bit at a time on the red cotton version of the sweater. I may not finish it in time for the July 1st shipment but I'll have for the next one.