Zigzag Two
It's done. I spent most of yesterday finishing this scarf. It took a lot longer than I thought it would. Of course I had a few naps along the way and had to re-do the final triangle because I forgot one of the increases or something.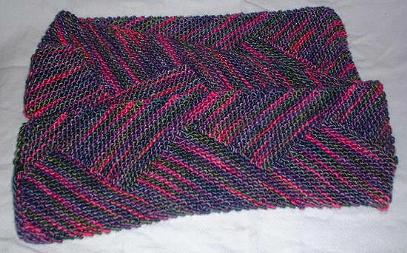 The silk/wool Scheffer yarn is wonderful to work with and easy to rip. I used a different bind-off from what the pattern calls for. I think it is easier to do and looks more like the cast-on end. I'm going to re-do the bind-off on the first scarf, just as soon as I can get around to it. This scarf is just over three feet long. A little short by today's standard but that's all the yarn I had. I had about fifteen inches left. Anyway, I think it will be a nice accent scarf.
So what to finish next? Some socks, maybe. I have two pair on needles. Some hats for the Dulaan Project. I have three going. I'd better stop there. It's too depressing.