Annual Amaryllis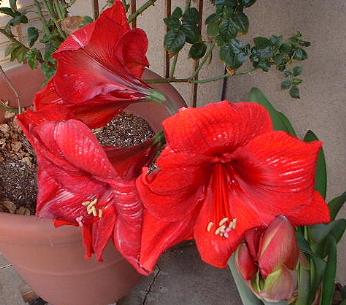 These blooms are a little post-peak but they're still sensational. There are lots more stems that are about to bloom but this stalk is first and seems to have the largest blossoms. The original three bulbs that my sister sent me for Christmas five or six years ago have multiplied to seven or eight. I think they thrive on neglect.
Not much really on the knitting front. I did start a new pair of socks with the Reynold's Swizzle and am just starting the foot on the first.

The color's a bit washed out here but you can see some of the subtle stripes as well as the brighter red and gold. I'm just ribbing, K6, P2, for the legs and the top of the foot. The yarn is pretty nice although there are a few slubs that I don't think are supposed to be there.