Eyelet it happen
It's very hard for me to resist really bad puns.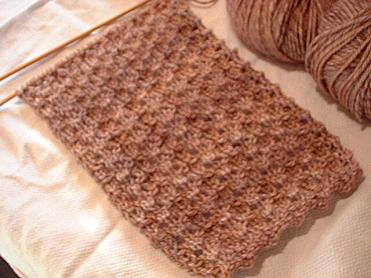 This is the Eyelet Rib Scarf from the Box of Scarves. Super easy. I added a few more pattern repeats. The yarn is the Grignasco Top Print, 100% alpaca, that I got on Sunday. It's pretty nice but not as soft as I thought it would be. But I'm more used to baby alpaca. I may need to get a couple more skeins. And I definitely need to block this one. It's hard to see the pattern without stretching the scarf open.
The week started with a flock of newbies waiting for help but only one turned out to be a paying student. I did have another student in the afternoon who always pays double, just because she thinks I'm worth it. Isn't that nice? And I have three lined up already for tomorrow. As Ann Mary says, ad infinitum, "Knitting is coming back."
I'm trying to interest people is something a little more challenging that a garter stitch scarf. Hence, the recent spate of scarves using smaller needles and more traditional yarns. Only limited success so far, but I'm pushing.