Fotos and FOs
We had a respite from the storms today, but today only per the current weather forecast. Ann Mary sent me home early today because I'm not over my cold yet and she thought I needed to go home and rest. It's true I wasn't very perky but mostly because I didn't have anyone to work with this afternoon. But a little unscheduled nap will be nice.
Anyway. Since we have a little light this afternoon I took a few pictures.
This is the Interlacements Oregon that I got a week or so ago. On sale at Stitch in Time. The orange is not quite that "glow in the dark" intensity but you get the idea. I'm thinking scarf or small shawl.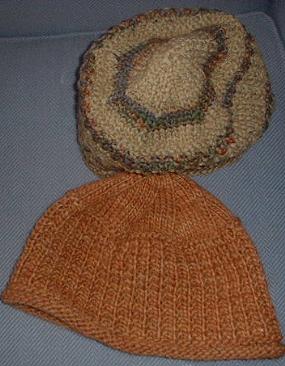 These two hats are the last of the ones I made for Christmas. The gold color is mine and the greenish striped one is for Lisa's mom. The pattern is from
The Purl Stitch
by Sally Melville, the Canadian hat. They're really warm, worked on a size 8US needle using bulky yarn. I made five of these all together.
I finished the latest multi-directional scarf a couple of nights ago. This is Noro's Kureyon #116. Here's a detail: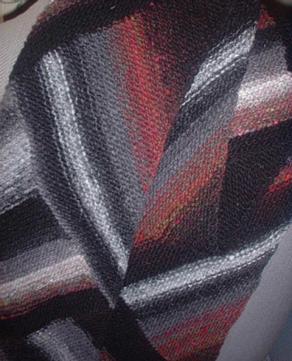 Since I don't wear a scarf on a regular basis I am surprised at how much warmth it adds. I've worn it to Skein the past two days to show it off to some of the people who saw me working on it. But I don't think I'll wear it often. Keeping track of a scarf is a pain.