Rabbit! Rabbit!
Where have all the Bloggers gone?
Seems like everyone but me has gone to Maryland to watch some sheep and feel some wool. Well, not everyone. But a lot! Will I ever get to go? Someday. And it's only six months until the Knitters Retreat.
I've finished one and a half sleeves of the Cotton Classic cable sweater but progress has been halted because Ann Mary wanted me to make this.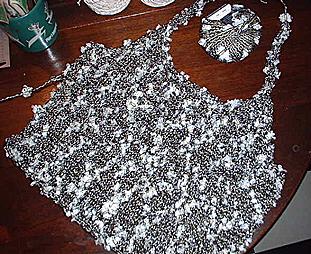 Filatura di Crosa's Giordino. The pattern is in the back of the current Vogue Knitting. There's almost nothing to it. It's hard for me to calculate but I think this took about four hours. I have to make another one exactly like it. And sew up two side seams. And weave in a few ends. Just tie the shoulder straps.
The yarn is a zigzag of ribbon caught in a tube of crisscrossing threads. There are tufts of white thread at regular intervals caught under the ribbon. It's not easy to photograph but the fabric looks like wild asters on a black background. It's pretty easy to work with if you watch out for the loopy "flowers".