It's kind of boring but there it is. When you take on a big, slow moving project like a cabled sweater it's just hard to find anything to say about what you've been up to. It's like "See Wednesday's post". Almost always the same. Even though I worked for five hours yesterday on the Moving Cable Sweater it still looks the same. A couple more weeks of this and I should have something to show for it, just not right now.
I did take a break from the sweater and work on a sock last night.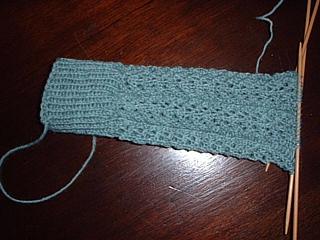 I'm going to start the heel flap next but first I have to vacuum up some cat fur and do a little dusting.
And just so you know,
Sarah
, I'm still finding my orange wherever I can.