The fourth and final box
While I do have lots more boxes filled with yarn, this is the last of the original four that I packed up and put in a corner some ten years ago. Most of what I've shown I remember. Some of the stuff in the last box totally escapes me.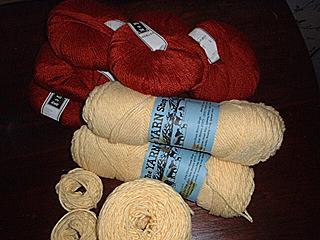 The yellow yarn is a wool and cotton blend that I bought in Taos on that first trip. I used most of it for a sweater for myself. After a couple of wearings I decided yellow, while a very nice color, does not look good on me so the sweater went away. The flat disks are skeins of Kid 'n' Ewe from Bryson. I'm not sure when I bought them or for what. We used to carry the entire color palette at Mariposa and I did once make a fairisle sweater using it. But I have no idea what this yarn was/is for.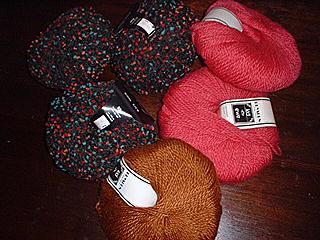 Some more Kid'n'Ewe plus something called Spicy from a company I don't recognize, Milan Tricot. I have some more skeins of the Spicy but they must be in another box somewhere. I remember buying ten skeins and I've never used any of it. It's sort of a tufted chenille. It definitely needs a carry along even though it's kinda fat all by itself. I think I must have been planning to use the Kid'n'Ewe as a contrast. Who knows? Not something I would do nowadays.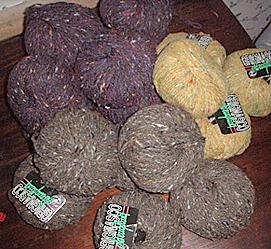 Three different colors of Grignasco Old England. I don't remember buying this yarn. It's really nice though. At least a worsted, maybe a chunky weight. All together there's enough for a sweater but I can't imagine I would have ever put these colors together. Not even back in the '90s. I do like the tweed look though. This may be a yarn whose time has not come.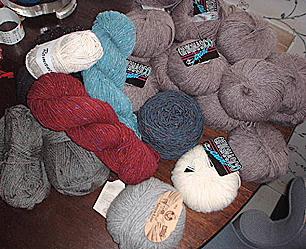 Some more yarn I don't remember. Grignasco Aran mostly. I must have been planning a sweater since there are fourteen skeins. There are two skeins of Rowanspun Tweed that I also don't remember. And some odds and ends. The Aran is 80/20 wool/mohair and has 130 meters per skein. It's a color I like to wear. Looks like this one will get outside the box, so to speak, and move close to the beginning of the line.
So, that's it. Now all I have to do is separate the yarns into things for the stash redistribution program, things for Goodwill, and stuff I need to hold on to for a few more years. Oh, and put the boxes back in the corner now that I've vacuumed it.