Box Three
More photos of yarns of the past.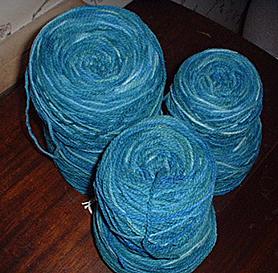 This is 1475 yards of Fingerlakes Soft Wool. Probably be nice as a multi-directional scarf or something similar.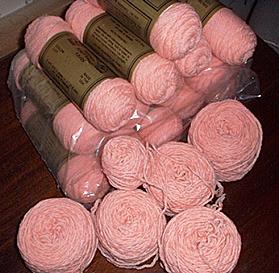 Some worsted weight wool from Reynolds. I have this yarn in several colors but only this coral pink in this box. This is definitely jacket weight for around here. Not sure if it's a color Lisa would like so I'll have to check with her this weekend.
Ten or twelve years ago we had a pattern at Mariposa that was called "The Slouchy Jacket". It was very popular as it was easy to do and was easily adjusted for different weight yarns. I made several of them. This is one that I never finished. I remember working on it while driving to Scottsdale to visit my sister. Well, Lisa drove. The yarn is a mixture of Rowan Chunky Chenille, Magpie Tweed, Rowan Designer DK and a hand spun yarn called Rambouillet. I don't remember why I didn't finish it except I think it's too heavy to be comfortable to wear. Or maybe I ran out of yarn.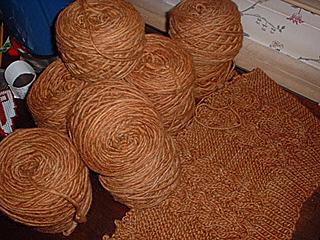 I bought this heavy wool in Taos on the first trip I made there, maybe 1986 or 87. The company was called Rio Grande or something like that. I think it now belongs to La Lana Wools. I remember thinking it was really cheap but I didn't think about how heavy it was. I started a sweater with the yarn right after I moved to Pasadena in 1990. You can see I didn't get very far. I think the wool was intended for rug weaving. I have some more of it in another color, teal, worked up in a sweater that I never put together. I'm sure that's in a box around here somewhere.
I'll have the final box tomorrow. I've already peeked and it's pretty good. Now I'm going to go cast on the front of the moving cable sweater. I finished the back last night, all 161 rows. I lost a couple of day's work because I didn't cross one of the cables. I tried fixing it with a crochet hook but that just made it worse. I have to admit that it was very tempting to just leave it but that only lasted about 30 seconds. I do have an image to maintain, after all.