Box Two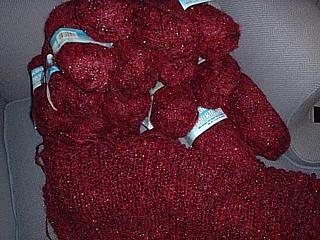 Wow! that's a lot darker than it looked before. Anyway, it's a very ugly yarn that I don't know why I have. It my defense let me just say it was probably very cheap. It's Bucilla's Sparkle. Mostly fake mohair with some glittery stuff. I got it at Super Yarn Mart, the late, much lamented chain. This yarn is so old! I don't think I had yet realized that all yarns are not created equal when I bought this. Although you can't see it there's a large block of knitting that was going to be a Rebecca Moses design. This yarn is at least fifteen years old, probably more. I feel good about dumping this yarn.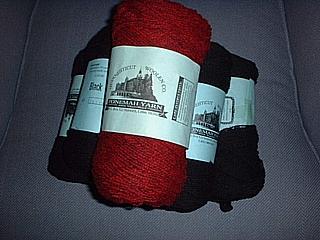 Hmm! Another darker than expected photo. But it doesn't really matter since the yarn is black, except for the one skein of burgundy. I remember seeing this yarn at TNNA a few years ago. It's 100% Virgin Wool from Quinnehticut Woolen Co. Sandra and I were very excited about it but we were about the only ones. I think most of it was sold for cost or given away. And I don't think the mill is in business anymore. I have five skeins of the black and one of the red. I'm sure I have the pattern I was going to make. So far I don't see any moth damage.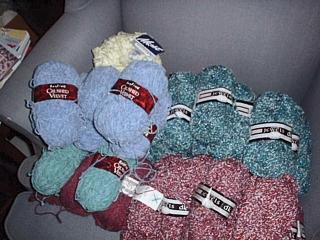 Living proof that glitzy yarns are not new. In the upper left corner there's some pale lime green stuff called Must. It's a kind of large scale chenille. This I might be able to use. Then there's a couple of stacks of something called Kilmory Jewels, from Hayfield. I don't think they're in business anymore. I have a lot of this. Might be okay as a carry along. And off to the left there's some of the world's oldest chenille, Hayfield's Crushed Velvet. Another yarn we had to sell off cheap. It knitted okay but it really grew!
I feel like I did when I went back to visit my hometown after being away for several years. It looked more or less the way I remembered it, but it was less interesting and somehow smaller than I thought it was.