The Floosie Scarf
We finally got the Mango Moon recycled silk that was ordered last January. It's kind of neat stuff but really needs something carried along with it. Most of their patterns call for something to be worked with the yarn. Of course we could have used something sedate and subtle but I thought we should tart it up a bit.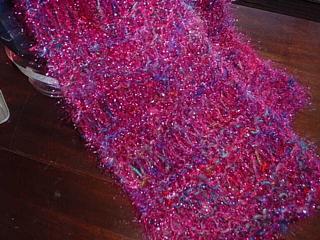 You'd need to see this live, in the flesh, to appreciate how wonderfully gaudy and delightfully tawdry it really is. One skein of Mango Moon recycled silk with one skein of Trendsetter Aura. I really expect we'll sell a lot of these this weekend.
Four hours from winding to weaving. 17 stitches on size 17 US needles. Garter stitch with occasional extended stitches (aka drop stitch). The scarf is about five feet long. I expect the weight of the yarn will cause it to stretch some.
I put the yarn in heavy plastic bags to keep them from tangling. I still had to keep an eye on it though. Not because Patrick bothers my knitting but he does love to lick and chew on plastic bags.