The pictures I promised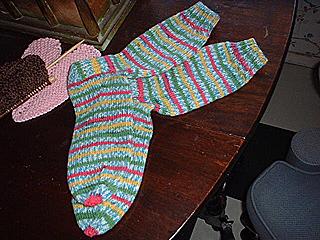 The stripes matched pretty well, even though I thought it would never happen. This is just my basic sock pattern, top down, 56 stitches. The Crevinia yarn was easy to work with but seems a little harsh compared to other self patterning yarns I've worked with. Maybe that's why it's about half the price.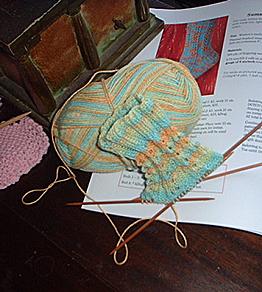 I'm using the Summer Solstice sock pattern from
The Sock Calendar
by Catherine Wingate and Jackie Erickson-Schweitzer. The yarn is Regia Cotton in Surf Color. The yarn splits easily and is not all that soft to the touch. But I like the colors a lot.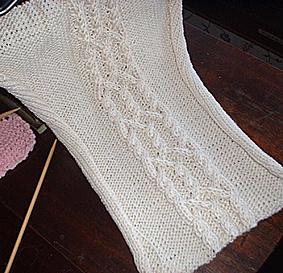 I'm doing the sleeves first for the Cotton Classic Cable sweater. I didn't work on it at all yesterday but I'll take it to Skein with me today. I haven't done cables in a while. I forgot how much I like doing them. And Cotton Classic is one of my favorite yarns.