The guys over at Eddie's Towing Service are having a slow week. It's spring break. Very few cars inappropriately parked at the fast food places on the corner. But on the upside, it's much quieter than usual on my street. Of course, there are still the garbage trucks and the gardeners using their mowers and blowers.
I've been a little preoccupied with other things but I do have a couple of photos for a change.
You really can't see the lace pattern. Well, maybe if you try really hard. I've worked on the sock for almost a month. I'll probably rip it out and reuse the yarn in a different pattern. Getting the toe started wasn't that big of a deal and the foot went along fairly well. And I even managed the heel with no serious difficulty. Since this was my first toe-up sock I followed the pattern slavishly. There's a yarn over at the beginning and end of the instep and it makes the junction of the heel stitches with the instep really, really loose. I could sew it up on the inside but that would be cheating more than I like. Also, the two sizes larger needle for the bind off was a bad idea, at least for me. Looks like a ruffle and I'm pretty sure that's not what was intended. But I did get some sock blockers.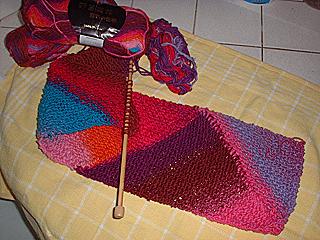 We went to Velona's again yesterday and I got three skeins of Noro's Cotton Kureyon, just to try it. I started this multi-directional scarf last night. I like the yarn okay but the colors are a lot harsher than in the regular Kureyon. I use the SSK decrease in the short rows rather than the SKP. Last night I tried slipping the second stitch as if to purl. Didn't work. I guess that second stitch really needs to be twisted.
I hope to finish this scarf in the next day or so and then back to socks until I get caught up.