Amaryllis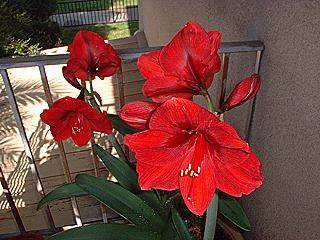 Four or five years ago my sister sent me a basket filled with amaryllis. They bloomed in time for Christmas, which is what they were supposed to do. I've managed not to kill them and here they are today, blooming for all they're worth. I recently transplanted them and they seem very happy. These are on my balcony, site of Patrick's recent foray into the outside world.
Yesterday was one of those rare days when I didn't have to go anywhere. I did meet a couple of friends for lunch but mostly I stayed home. Luxury! I worked some on one of my current sock projects and took a couple of long naps. I stopped by Michael's on the way home from lunch to see if they still had the Paton's Grace on sale. They didn't and I didn't like any of the colors they had. Well, not enough to buy any.
There used to be an old house across the street. It was there this morning. I heard a lot of noise outside and saw a flatbed with a bulldozer on it. Five minutes later there was no house. Three or four loads later there is nothing left except the torn up lawn. All the history, all the memories wiped out in just a few minutes. This seems to be happening a lot around Pasadena. Making room for more condos mostly. One family homes have become so expensive that most people cannot afford them. And condos are going for incredible prices. My own place has tripled in market price since I bought it. I guess I'm fortunate that I'm not looking for a place to buy.