What a difference
a tripod makes. Lisa gave me a tripod for Christmas. I can't get over how much better my indoor photos are. It's very overcast here today so about the only light available was the overhead and the flash. I did use "sharpen" on these photos but I think they would have read pretty well without it.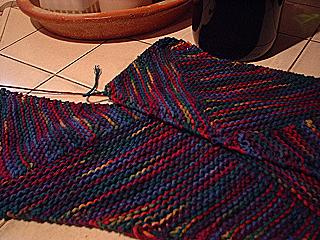 This is the current
multidirectional diagonal scarf
. The yarn is Brown Sheep Kaleidoscope that Mendy gave me. I love the yarn and I love making this scarf. The color is actually pretty dark and the color transistions are softer but still a pretty good representation of what the scarf looks like, in progress.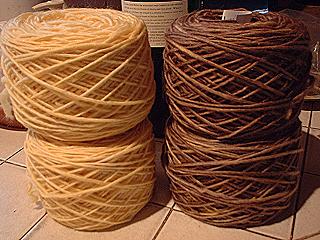 This is a hand dyed yarn from a new company named Steadfast Yarns. I don't know anything about the company except they're in Idaho. The yarn itself is Brown Sheep worsted that they buy and then dye. I got this when I went ot Phebie's last Monday. I think it'll have to be scarves since I only got two of each color.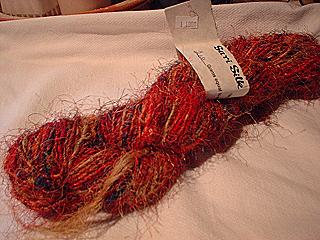 And this is Sari Silk from Muench Yarns. I got two skeins of this. The other one is a different colorway and I gave it to Mendy. There's 111 yards per skein so this will also become a scarf. The sample they had going at Phebie's was garter stitch on size 17 needles. Felt pretty soft. At $19.00 per hank it's a little pricey. But once in a while it's just the right thing to do. And Lisa will love the color.
I really need to go finish cleaning house and getting ready for work. And if there's time I'll work a little on the scarf. Need to start another project soon but haven't decided what it will be.