Pat, the cat. Or, pet the cat.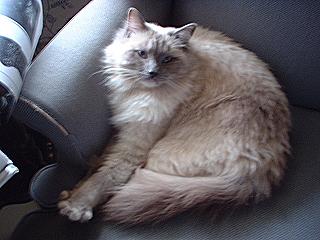 Meet Patrick, my new cat. I've been thinking about getting a pet and when one of my students said she needed to find a home for her cat I decided to go ahead. He's about a year and half old, has blue eyes, incredibly soft fur and is very big. He weighed 11.8 lbs. at his last physical, a week ago. He's a lilac point ragdoll. He likes to be petted a lot, especially around 3 in the morning. It's also difficult to get him to pose. (I changed his name from Pickles to Patrick. I'm sure he will like it a lot better.)
Now, about the knitting. I'm still working on the two scarves and have a pair of socks started. I also need to start a sweater for my friend Robert. I gave him the yarn last night when we finally got together for Christmas. He's decided he'd like a raglan pullover, just plain. So I'll do a gauge later today and plug it into Sweater Wizard and get started.