Kvetch
Do you remember this yarn?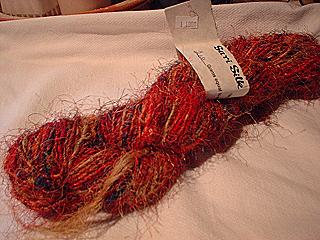 It's the Sari Silk I bought a few weeks ago. Today I got around to putting it into a ball. What a mess! It is so over twisted that I couldn't use my ball winder. There are plenty of knots and some very thin spots. At $19.00 per skein I expected better quality. I realize it's made from silk leftovers but it looks like they took no pains at all to make it "nice". My feeling is that if you want to break into the US economy you'd better have a good product.
I purchased a kit about three years ago from a company called Himalaya Yarn. It contained yarn made from the floor sweepings in the carpet factories of I think Nepal. It was very crudely made and kept breaking every few feet. So I never bought any more and warned anyone who expressed an interest in it about the poor quality.
I haven't knit with the Sari Silk as yet but I'm not looking forward to it. I'll probably have to let the yarn untwist about every five feet or so. I'm going back to the shop where I bought it next week. I'll see if they've had similar complaints. Oh well, the cat likes it.
I spent part of today ripping nine skeins of Berroco Furz. This was from a super long scarf that one of our customers didn't want. She tried to rip it but didn't have the requisite patience. It wasn't really all that difficult. Somewhat like ripping mohair but no where as tedious. Now I just have to put it away until I decide what to do with it. I'm sort of thinking about
this pattern
that
Rob
has been talking about. Not sure if I can get the gauge but it would be easy enough to recalculate.