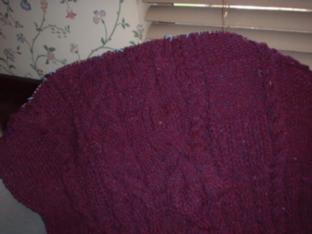 This is kind of an overall view of the cabled raglan pullover. Not as good a photo as I had hoped for. My digital camera is another one of those electronic things that I'm still trying to get control of. I think the batteries might be running low since it kept shutting off while I was taking pictures. I just had time to point and click, no time to check composition etc.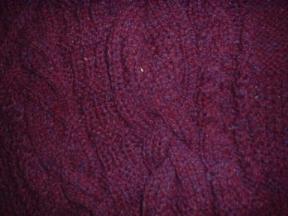 A shot of some of the cables. There are two large cables, one with 17 stitches and a 34 row repeat, the other with 19 stitches and a 30 row repeat. There are a couple of other cables, one that repeats irregularly over 34 rows and the other that repeats over 6 rows. Plus a few filler patterns.
And another shot of the detail of the border pattern. Some of the cables start at the edge and continue through to the shoulder. Others only go part of the way, and some others don't start until after the border is done.
I'm really having a pretty good time working this, partly because it's been a long time since I've done anything so complex. I'm also happy to be using up some yarn from my stash. I think I mentioned earlier that I had had this Candide for about 10 years. I'm hoping it softens a little bit when it's washed.