One last time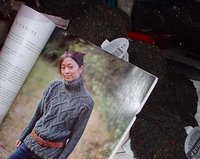 In a last ditch effort to corner the market on all the yarn in Southern California I made one final trip to Stitch in Time. There's a rumor going around that there might not be any more sheep in the future. When I was there on Monday I saw this Jo Sharp Silkroad Aran Tweed. I knew there was a pattern somewhere in recent memory that used this yarn. So I went home and found it in the current issue of
Interweave Knits
. And it's by one of my all time favorite designers,
Kristin Nicholas
. Serendipity at it's finest. Too bad you can't really see what it looks like. It's a dark olive green almost charcoal tweed with flecks of beige and red. Since the sale at Stitch in Time runs through the end of the month I got fourteen skeins at 25% off. I can't make it to any of the other yarn shop sales so this will have to do for this year. I don't actually know how much I've spent on yarn this year. Does anyone keep track of that sort of thing? If I knew I'd probably get depressed and that would take all the fun out of it.
I've promised myself that I won't buy any more yarn until I catch up on some of the projects I've already either started or have planned and have yarn for. I'm not sure how likely that is to happen. I'd say not very since I already have a trip to
Velona's
planned for the second Monday of January. If you've ever been there you know it's impossible to not find something to buy.
I'm still on a hat kick and have completed two since Christmas. I'm trying to use up all the leftover skeins from my holiday knitting. I also have a new pair of socks that I'm using for my at Skein knitting. I need to replenish my gift box and get some stuff done for the Dulaan Project. And there's the cocoon jacket to be finished.