Bear with me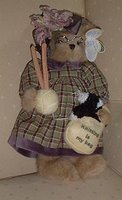 'Tis the season. Gift giving and gift receiving. And I'm having doing well on the receiving end of the equation. Lots of chocolate, gourmet coffee, wine, gift cards and cash. And Mrs. Knitter and Pearl. (I assume Pearl is the cat sitting in the yarn bag.) I don't collect bears myself although I do have a few stuffed animal toys that are left over from a Christmas tree that I had a few years ago, when I still did trees. There are no grandchildren or small people in my life. So I'm not exactly sure what I'm going to do with this.
I know there is someone out there who would love this bear. I think it's part of a collection; it's a little fussy to make a good toy. So for the time being Mrs. Knitter and Pearl will reside in the sturdy box they came in. I do appreciate the thought and the gift. I just don't think I'm the right caregiver for this one.
I really thought I'd be done with my holiday knitting by now. But I still have some on the needles. Two skeins to go on a scarf and half of a second sock. But I'm almost done with scarf six of the ten that Skein is doing. I hope Ann Mary has at least four done. I'm pretty tired of this project.
We've been busy for the past few days. And I'm still teaching basic hats. Tomorrow is the last late night opening for the pre-Christmas season. I expect to be very busy answering last minute questions about decreases and how to use double points. And I hope to get some help with getting rid of all this candy.